Things to Check Before Buying a Used Car in Dubai or UAE: Your Comprehensive Pre-Purchase Inspection Guide
So, you're on the lookout for a new car? Well, maybe not "new" as in "never driven", but new to you! That's a very smart decision, especially when it comes to luxury cars as you can get much better value at a lower price. But choosing the right used vehicle is not only a financially savvy decision but also a practical one that aligns with your needs and lifestyle.
The used car market in places like Dubai has expanded exponentially, and now – in the year 2023 – offers a wide range of options to prospective buyers like you. However, this choice is not without its challenges. A pre-purchase inspection, carried out by experts, can save you from unforeseen issues and expenses. In Dubai and other parts of the UAE, this step has become indispensable in ensuring a wise and risk-free purchase. Let us help.
The most common problems that buyers face when choosing and purchasing a used car include hidden mechanical issues, inflated prices, and the potential of purchasing a vehicle with an undesirable history. Hence, services such as car repair in Dubai and pre-purchase car inspection in Dubai have become essential parts of the journey to buying a used car safely and comfortably. Emphasizing the need for a thorough inspection, we will guide you through the first steps you should take on this journey.
Identifying Your Needs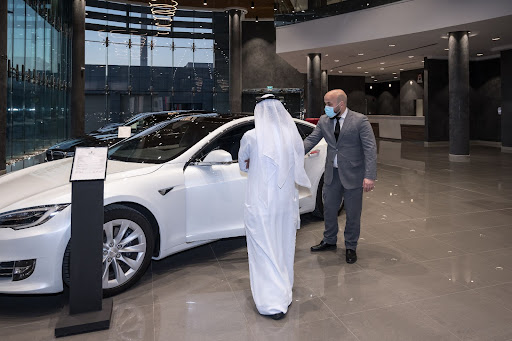 Determine the Budget
The very first step in the car-buying process you will have to take is defining a budget. Understanding your financial limitations helps in narrowing down the choices and will help ensure that you make a decision that doesn't strain your resources.
Identify the Type of Vehicle that Suits Your Lifestyle
It doesn't matter if you're an off-road adventurer or rather a city commuter – identifying the type of vehicle that fits your lifestyle is an important step that you can't go without. With a car service center near you and options for vehicle inspection near you, you can ensure that the car you choose aligns with your daily requirements and fits your lifestyle.
Researching the Right Vehicle
Researching Various Makes and Models
Invest time in researching different makes and models. It's helpful to think about aspects such as fuel efficiency, reliability, and the availability of spare parts.
Considering Factors like Mileage, Age, Condition, and Maintenance History
You are probably aware of the fact that a used car's mileage, age, condition, and maintenance history can significantly impact its value and performance. Services like car service in Dubai and a thorough pre-purchase inspection can provide better and deeper insights into these critical aspects.
Where to Buy a Used Car
Options for Purchasing: Dealerships, Private Sellers, Auctions
Buying a used car comes with various options. These can include authorized dealerships, private sellers, or even auctions. Each has its unique benefits and drawbacks. Let's take a quick look:
· Dealerships: They offer certified vehicles, warranties, and often a more structured buying process.
· Private Sellers: Potentially lower prices but a higher risk of hidden problems.
· Auctions: A chance to get a bargain, but the process might be complex and risky.
Inspecting the Vehicle
Before finalizing a used car purchase, a comprehensive inspection is not just essential but crucial. In Dubai and surrounding areas, professional pre-purchase inspection services have become a must-have, making the inspection process seamless and trustworthy. This stage can help you avoid buying a vehicle with hidden issues that could lead to costly repairs down the road.
Having a specialized pre-purchase inspection service conduct the examination is a wise choice. It ensures that all aspects of the car are thoroughly and professionally examined by those well-versed in the specifics of the local market and vehicle requirements. Look for reputable pre-purchase car inspection services in Dubai to ensure you're getting the best possible evaluation.
Exterior Inspection
This involves checking paint, body, tires, and wheels, including meticulous scrutiny for dents, scratches, and any sign of previous accidents. Specialists in pre-purchase inspection in Dubai will have the expertise to assess tire condition, handle wheel issues, and properly evaluate the exterior.
Interior Inspection
The pre-purchase inspection should also encompass the interior, focusing on the upholstery, controls, odors, and electronic functions. Everything from seat condition to the functionality of the radio should be checked. With pre-purchase inspection services, you can ensure that professionals specializing in car electrical services provide invaluable insights and evaluations.
Mechanical Inspection
This entails inspecting the engine, transmission, brakes, and other mechanical parts, looking for leaks, strange noises, and the overall condition. Reputable pre-purchase inspection services in Dubai will offer specialized services that include checks for engine oil quality, brake pad condition, and more, guaranteeing a detailed analysis.
Test Drive
Conducting a test drive under the guidance of a professional inspection service helps you assess the vehicle's performance accurately. During the drive, pay attention to how the car handles, brakes, and accelerates, and lean on the experts to identify alignment or suspension concerns, as well as other hidden issues.
By entrusting your vehicle inspection to recognized pre-purchase inspection professionals in Dubai, you'll gain peace of mind knowing that every critical aspect of the car has been assessed by experts familiar with the unique considerations of buying a used car in the region.
Negotiating the Price
Negotiating with sellers requires patience and a clear understanding of the car's value. Research and be prepared to walk away if the price isn't right. Assistance from a car repair garage near me or car inspection near me can provide additional leverage.
Finalizing the Deal
Paperwork and legal considerations must be handled with care in the final stage of purchasing a used car. Consulting with pre-purchase inspection professionals ensures that all aspects of the car are in line with the agreed terms and meet all required standards. Utilizing pre-purchase inspection services in Dubai also adds an extra layer of confidence in your purchase, as they can assist in making sure all legalities and conditions are met, safeguarding your investment.
Maintenance After Purchase
Regular maintenance after purchasing a used car is vital for its longevity, and the relationship with your pre-purchase inspection service doesn't end at buying. In Dubai, these professionals can continue to assist in keeping your vehicle in top condition, providing guidance and support for regular maintenance needs.
This includes regular car oil changes and specialized services for luxury vehicles, like BMW service. Trusting the same professionals who helped you buy with confidence can be a wise decision in maintaining your car's value and performance.
Your Steps Towards the Right Used Car
Buying a used car can be a sound financial decision, particularly when approached with the right caution and diligence. The role that pre-purchase inspection plays in this process is absolutely vital, especially in Dubai and the UAE – it is key From understanding the car's maintenance history to identifying potential repairs or issues, the comprehensive inspection carried out by professionals sets the cornerstone for a wise purchase.
Focus on these critical aspects and use professional services like pre-purchase car inspection in Dubai. That way you can secure a reliable and satisfactory used vehicle. This is not just about safety and comfort but about aligning your purchase with high-quality standards and long-term satisfaction.
The emphasis on pre-purchase inspection subtly intertwines within this guide, reflecting its indispensable role in a successful purchase of your chosen used car.
Frequently Asked Questions (FAQs)
When you're inspecting a used vehicle, it's very essential to look at the exterior body. This includes paint, dents, and scratches. Don't forget about the condition of the tires and wheels as well. Interior checks should include upholstery, controls, odors, and electronic functions. For specialized help, you may seek a tire service or a comprehensive car inspection.
A used car's reliability can be determined through a thorough inspection by a professional mechanic, reviewing its maintenance history, and conducting a test drive. A pre purchase car inspection near me or a vehicle inspection near me could provide detailed insights into the car's condition.
Under the hood, it is very important to check the engine's condition, oil levels, transmission fluid, belts, hoses, and any signs of leakage. Regular engine oil changes and following proper car maintenance protocols can indicate how well the car has been cared for.
The most important thing to look for is the overall condition and maintenance history of the car. Understanding any underlying issues or potential repairs can help you make an informed decision. Look for car repair near me or tire repair near me to assist with any immediate concerns.