The United Arab Emirates has long been a special place where guests and residents alike can experience luxury and extravagance in its many facets. This also – and maybe especially – applies to cars. This affluence has led to a growing market for luxury vehicles, which is supported by top-notch facilities like car service center Dubai and highly specialized car repair services offered in Dubai by Emirates Moto.
A recent trend that's been catching on fast in the UAE is the purchase of second-hand luxury cars from luxury car brands. Buying a car that isn't new not only makes owning a premium vehicle more accessible but also ensures high quality through rigorous pre-purchase car inspections in Dubai.
In today's blog, we're taking a look at the top 5 luxury car brands in the UAE that make great second-hand purchases. Stay tuned and read on!
Top 5 Luxury Car Brands in the UAE for Second-Hand Purchases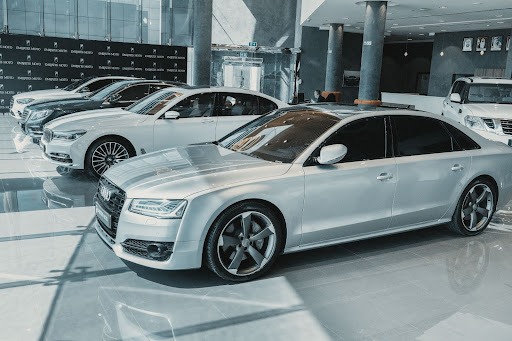 1. Audi
Audi, with its strong presence and support from dedicated service centers in Dubai, continues to be a preferred choice among luxury car enthusiasts. Models such as the Audi A4 and Q7 are particularly popular in the used market. Services like Audi repair and Audi car servicing in Dubai are essential to maintain the car's optimal performance.
2. BMW
BMW is known for its engineering and luxury. The famous brand's popularity in the UAE is sustained through specialized BMW repair Dubai services which help you keep your second-hand car in the best condition possible for a very long time. Series such as the BMW 5 and BMW 3 are often sought after but other models also make great second-hand cars. Local services like BMW car service facilities near your location allow for accessible and efficient maintenance so that you don't have to worry about your BMW breaking down.
3. Mercedes-Benz
Vehicles such as the Mercedes C-Class and E-Class remain favorites among both new and used car buyers. As a symbol of elegance, Mercedes repair services in Dubai and Mercedes service centers in Dubai maintain the brand's prestige. The localized Mercedes car service in Dubai ensures that there is always impeccable care tailored to each model available.
4. Range Rover
When it comes to Range Rover, models like the Range Rover Sport are particularly popular. This brand is known for its robust performance, but this is only the case with the right maintenance services. Services like range rover repair Dubai and range rover car service Dubai like that of
5. Porsche
Suitable second-hand Porsche models are the Porsche 911 and Cayenne, which are often preferred among pre-owned options. With its sporty image, it's no wonder many people are attracted to the brand's exclusive standing. With the help of a nearby Porsche car service center you can make sure that the car stays as invigorating as it was on day one.
Where to Find and Service Second-Hand Luxury Cars
Finding the right second-hand luxury car requires knowing where to look for the perfect car. When you're on the hunt, consider options like certified dealers and consult services. These providers can help you and guide you on your way of finding your dream car at an affordable price.
Beyond purchase, owning a luxury car calls for specialized services like "heel alignment Dubai, tire service Dubai, and understanding the engine overhaul cost. These specialized care routines are essential to maintaining the vehicle's performance and luxury feel.
Several dedicated service centers and repair shops, such as Emirates Moto specialize in handling luxury brands. They are equipped and ready to provide the required care with precision and quality. Check out EM's pre-owned vehicles that are currently for sale and see if anything in their large selection catches your eye.
How To Find the Right Second-Hand Luxury Car for You
The top 5 brands in the UAE for second-hand purchases each come with their very own unique requirements, as you can imagine. Audi's meticulous engineering, and Porsche's sporty aesthetics – understanding each brand's unique service and maintenance needs is an important first step.
By understanding these unique needs and engaging with the right experts, owning a second-hand luxury car in the UAE becomes not just a dream but a satisfying reality. Go to
Frequently Asked Questions
In the UAE, luxury brands like Audi, BMW, Mercedes-Benz, Range Rover, and Porsche are popular choices for second-hand purchases. Models such as Audi A4, BMW 5 Series, and Mercedes C-Class are often preferred over others – for their quality and enduring value.
Luxury cars may not generally be considered "cheap" to maintain, but some brands offer more cost-effective maintenance options. Among luxury brands, some examples that offer more affordable maintenance plans are Audi and BMW. It's always advisable to consult local service centers for specific details tailored to your own specific needs.
Choosing a second-hand car in the UAE is not a one-step process. It involves several steps – let us explain:
1. Determine your budget and needs.
2. Research popular and reliable brands (like the top 5 mentioned in this article).
3. Make use of services like Emirates Moto's pre-purchase car inspections to ensure quality.
4. Consult specialized service centers and dealers so you can get professional guidance.
5. Don't forget about the maintenance and repair costs associated with the specific brand and model – inform yourself in advance so there are no bad surprises.
The "best" car brand can, of course, vary depending on individual preferences, needs, and budget. In terms of luxury and prestige, brands like Audi, BMW, Mercedes-Benz, Range Rover, and Porsche are highly regarded in the UAE and might be the best choice for you. To be sure that you are making a good decision for your situation, consult with local experts and consider your unique requirements to find the brand that best aligns with your expectations.