Your Car Deserves the Best: How to Choose the Right Auto Repair Shop for Your Car's Servicing Needs
When we think of Dubai, we often think of it as a place (or a city) full of luxury and wealth. This is true – and automobiles are not an exception to this. Actually, this idea especially applies to cars. And yes, it is true that the city's gleaming streets are full of the latest and most extravagant luxury cars, as you would imagine and expect. These cars – and their drivers – reflect a passion for automotive excellence that is very prevalent in Dubai. When it comes to the maintenance of these prized possessions, it is not merely about keeping up appearances. What it truly is about is preserving the quality, performance, and value of the vehicle – something that is only possible when you have a reputable car mechanic service on your side.
The UAE's luxury car market is very large, there really is no debate about that. It's a bustling arena of top-tier brands, latest models, and discerning owners. Here, you will find anything from the timeless elegance of a Rolls Royce to the sporty allure of a Ferrari. Here, luxury cars are not just a status symbol but a part of the cultural fabric. Keeping these automotive masterpieces in pristine condition is, therefore, not only a matter of pride but also of necessity.
There are various auto repair garages in the region. Among them, one shop stands out for consistently delivering superior services: Emirates Moto. The brand has established itself as a leading name in Dubai and is now known for its comprehensive and specialized services. Later on, we will let you know how they cater to all the unique needs that luxury car owners might encounter and how you and your car can benefit from their excellent services as well.
In this guide, we want to assist you, a current or future luxury car owner, in navigating the multitude of choices when it comes to selecting the perfect service center.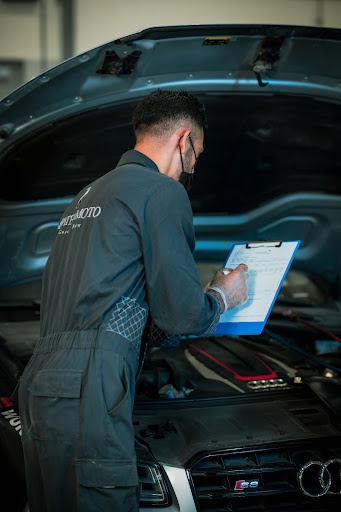 Understanding Your Luxury Car's Needs in the UAE
It is very important that you are aware that luxury car brands have distinct characteristics and require specialized care. It really doesn't matter if we're talking about the high-tech gadgets in a Mercedes or if we are referring to the precision engineering of a Bentley – every brand has specific needs that only real expert hands can cater to.
Without regular maintenance preserving a luxury car's performance and appearance becomes very hard. In fact, if you don't care for your vehicle in the form of oil changes, wheel repairs, and routine check-ups by professionals, then how can you make sure that your vehicle remains in peak condition? It just isn't possible without these services. You (and especially your car) need these services. Specialized services, such as paintless dent removal and chassis repair, can add to the looks of the car and further enhance the vehicle's longevity.
Now, let's also not forget about the environment your car is constantly exposed to. The issue is this: The hot and often harsh climate of the UAE puts extra strain on certain components of the car. Especially the air conditioning system has to go through a lot and can easily break down or get damaged. Timely AC service and repair are therefore very important – essential – to ensure your comfort and the optimal functioning of your car.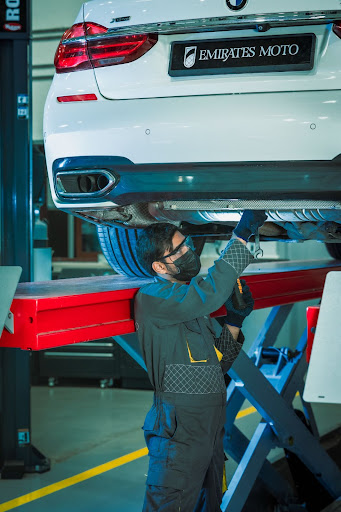 Tips on Selecting the Right Auto Repair Shop
Researching and Comparing Shops
Not all repair shops are created equal. Researching and comparing various options, including online reviews and customer testimonials, is vital in selecting the one that best suits your vehicle's needs.
Assessing Quality of Work
Quality workmanship is non-negotiable when it comes to luxury cars. Assess the previous work of a shop, ask for referrals, and pay attention to the details that reflect their dedication to quality.
Considering Customer Service and Satisfaction
A great repair shop prioritizes customer service and satisfaction. Look for shops that communicate openly, provide clear estimates, and strive to meet your expectations.
Understanding Costs and Value
While cost-effective solutions are attractive, understanding the balance between cost and value is essential. Cheaper isn't always better, especially when quality and specialized services are at stake.
Evaluating Specialized Services
Consider the range of specialized services offered by the repair shop. From wheel painting to transmission repair, the availability of specialized services reflects the shop's expertise and ability to cater to your car's specific needs.
A Look at Emirates Moto's Services
Workshop Services
Emirates Moto's workshop services are designed to cover a wide range of needs, all for luxury car owners. They offer specialized wheel repair and painting, transmission repair, and many, many more comprehensive solutions:
· Vehicle Maintenance: Minor and major services, oil changes, and mechanical service – we ensure your car's engine and mechanical parts are in top condition.
· Safety and Comfort: We offer tire services, brake service, and AC repair. We focus on your driving safety and comfort.
· Transmission and Electrical Care: Expertise in transmission repair, electrical service, and car battery maintenance ensures optimal performance.
· Aesthetic Services: Our car paint workshop caters to all your bodywork and appearance needs. Similarly, our Pre-Purchase inspection provides you with a thorough inspection, ensuring you invest in a luxury vehicle that meets your standard.
· Fleet and Contract Solution: Our customized vehicle service contracts and fleet maintenance reduce operating costs and ensure long-term reliability.
Bodyshop Services
The bodyshop at Emirates Moto also offers a plethora of services to enhance and maintain the appearance of your beloved vehicle:
· Wheel Repair & Painting: With over three decades of experience in wheel restoration, they understand the changing trends and customer demands.
· Chassis Repair: Accident or regular wear and tear – they provide excellent framework repairs.
· Car Detailing: Comprehensive cleaning and restoration services to maintain the vehicle's appearance – especially important in Dubai's challenging climate.
· Rim Painting: Customization with various finish options, from diamond cut to matte, to add distinct character to the vehicle.
So, What's The Secret to Choosing the Right Auto Repair Shop
As you will know after carefully reading this blog, there isn't one single secret to choosing the right service center. Making this decision actually involves careful consideration of quality, specialization, customer service, and cost.
We've designed and assembled these guidelines to assist luxury car owners like you in making informed decisions. If you follow them, we are sure that you will find satisfying and trustworthy services. If you put your trust in specialized services, then you can make sure that your luxury car remains a symbol of prestige, performance, and safety.
Are you interested in learning more details? Then, explore the specific service pages on Emirates Moto's website for a comprehensive overview of all their offerings that are tailored to your specific needs.
So, are you ready to give your car the care it deserves? Book an appointment with a trusted provider like Emirates Moto and experience the exceptional service that they offer (and that your luxury car demands).
Frequently Asked Questions
To identify a reliable repair shop, you should check out their credentials, look at customer testimonials, and research the range of services that they offer. Emirates Moto, for example, provides specialized services that are tailored to luxury car needs and has established itself as a popular spot for any type of repair.
To determine this, you need to assess the cost of car repairs in your area. Don't forget that quality does have its price. So, don't pick the cheapest service out there just to save some change. The smart choice is to, instead, make sure that the service is of high quality.
The top priority in an automotive shop should be a combination of things: these include quality workmanship, specialized services, customer satisfaction, and transparency – in other words, the whole package with your individual needs at the forefront of their minds.
When you want to determine what an expensive car repair is, think about this: they often involve complex components like the transmission, engine, or structural framework. The first step is to understand the nature of these repairs and the value offered. Then, you can evaluate the cost and see if you are getting a fair deal – so you, your car and your wallet are happy.