Luxury car in UAE have long been an object of desire and admiration among many residents. They are more than just a simple mode of transportation – they're a status symbol. In today's blog, we want to educate UAE affluents on the various financing options that are available for purchasing a second-hand luxury car. We will discuss everything from bank loans to dealership financing and leasing. Let us tell you this in advance: for those interested in buying a pre-owned vehicle that is as good as new, Emirates Moto offers a fantastic range of options to consider. Now, let's talk about financing!
Types of Luxury Cars Popular in the UAE
When it comes to luxury cars in the UAE, brands like BMW, Audi, and Mercedes often top the list. These high-end brands are known for their top-notch engineering, lavish interiors, and an array of high-tech features. This just highlights that choosing the right luxury car is not just about brand appeal; it's about finding a vehicle that aligns with your lifestyle, your needs, and your financial capacity. These factors are all equally important!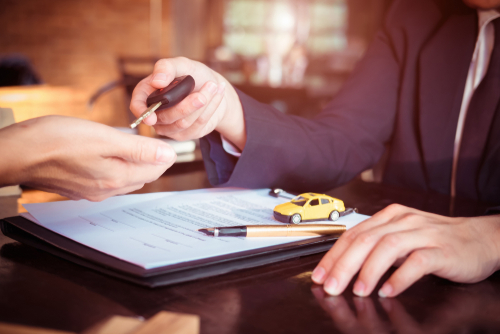 Financing Options for Second-Hand Luxury Cars
When you're in the market for a second-hand luxury car, various financing options can help you secure your dream vehicle. Let's take a look at some of the most common methods for financing a used luxury car.
Bank loans for second-hand luxury cars are often provided by traditional financial institutions. They offer a structured repayment plan over a fixed term, which is usually priced at a lower interest rate compared to other financing options.
Pros:
· Fixed or variable interest rates allow for financial planning.
· Loan pre-approval gives you a clear budget.
Cons:
· Requires good credit history.
· Some banks have higher interest rates for used cars.
How to Apply for a Bank Loan in the UAE
· Research and compare loan offers from different banks.
· Gather necessary documentation – that includes salary slips, credit history, and some form of proof of residence.
· Submit your application and wait for pre-approval.
What does this mean? Well, when you opt for dealership financing, you're essentially getting a loan directly from the car dealer. The dealership collaborates with various financial institutions to offer loans.
Pros:
· Convenient and quick, as you can arrange financing where you buy the car.
· Promotional interest rates might be available.
Cons:
· May include extra fees.
· Rates may be less competitive compared to bank loans.
What exactly is leasing a car? Leasing a second-hand luxury car means you rent it for an agreed-upon period. At the end of the lease term, you have the option to buy the car or return it and lease another one.
Pros:
· Lower monthly payments.
· Opportunity to drive a high-end car without a long-term commitment.
Cons:
· You do not own the car.
· Mileage restrictions apply.
Factors to Consider When Financing a Second-Hand Luxury Car in UAE
Don't just think about the price tag when you're in the market for a second-hand luxury car. There's more to making this decision. One really important aspect is the availability and terms of service contracts. A good service contract can offer peace of mind by covering maintenance and unexpected repairs, which is especially important and helpful (in the long term) for luxury vehicles that may have high-cost parts.
Second-hand luxury cars, especially those that have been well-maintained, can actually result in low maintenance costs in the long run. This can significantly offset your overall financial outlay and make this an even more appealing option.
It's absolutely essential to go to specialized service centers for luxury brands like BMW, Audi, and Mercedes. These centers have the expertise and parts that are needed to maintain your car's luxury performance.
How to Calculate the Costs
Calculating the costs can seem confusing and overwhelming at first. Financing a second-hand luxury car involves several different costs, from loan EMIs to down payments. You can use financial calculators online to get an approximate idea of your monthly obligations. Always factor in additional costs like insurance, maintenance, and registration when you're calculating your budget.
Benefits of Shopping with Emirates Moto
Emirates Moto is happy to be offering pre-owned luxury cars that are as good as new. This is our slogan, and it is what we embody and stand for. Not only do we offer a wide selection of top-tier brands, but we also ensure they meet the highest standards of quality. Our customer reviews and testimonials are proof of the satisfaction and peace of mind our services have offered and continue to offer to our clients. Additionally, we understand that purchasing a luxury car is a significant decision, which is why we provide flexible payment options to make the process even more convenient for you.
What Is the Best Financing Solution For You?
Financing a second-hand luxury car in the UAE is a viable option if you take the time to consider all the relevant factors – you have to be willing to put in a little bit of time and research. But the most important part is that you understand which option is the best for you so you can make an informed decision. Understanding different financing options, calculating costs, and looking into service contracts is the key. We encourage you to consider your financing options carefully and to consult with experts for personalized advice.
Frequently Asked Question
Yes, it's entirely possible to secure a car loan for a second-hand luxury vehicle in the UAE. However, eligibility may vary depending on factors such as your credit score, employment status, and the financial institution you're dealing with. Typically, you'll need to provide documentation like salary slips, credit history, and proof of residence. Once you're pre-approved, you'll know your budget and can proceed to choose a second-hand luxury car that fits within it.
People in Dubai employ various financial strategies to afford these high-end vehicles. Some purchase their cars outright, especially if they have lucrative businesses or high-paying jobs. Others utilize smart financing options like bank loans with favorable interest rates or leasing arrangements that allow for more manageable monthly payments. It's a very individual decision.
Absolutely! Financing a used car in Dubai is not only possible but actually quite common. No matter if you opt for a bank loan, dealer financing, or leasing, there are options available to suit different financial situations. Banks usually offer loans for used cars, although interest rates might be slightly higher compared to new cars. Dealership financing could be a one-stop-shop solution, but it's essential to read the fine print for any additional fees or charges.
Let's take a look at the step-by-step process of buying a second-hand car in Dubai. Here's what you need to do:
1. Research: Look for reputable dealerships or private sellers with the specific second-hand luxury car model you desire.
2. Inspect: Thoroughly check the car's condition and its history. The best choice is to get a car inspection done by a professional mechanic like Emirates Moto.
3. Negotiate: Once you're satisfied with the car's condition, negotiate the price.
4. Financing: Decide on your financing method – you can either pay upfront, take out a loan, or opt for a leasing arrangement.
5. Paperwork: Complete all the required documents – this includes transferring the ownership of the vehicle, and getting insurance coverage.
6. Registration: Finally, the car needs to be registered under your name at the local traffic department.